The U.C. Hiking Club/CHAOS Alumni Site
The U.C. Hiking Club is an outdoor group founded at U.C. Berkeley in 1948, with roots going all the way back to Joseph LeConte's 'University Excursion Party' in 1870. The club has has been known since 1992 as the Cal Hiking and Outdoor Society (CHAOS). The University of California required the name change when new student group naming conventions were adopted.
Three UC Hiking Club Reunions held August 2010
The August 2010 reunion in Missouri brought this note from Tom Aley:
"Caving, canoe trips, eating, birding, botanizing, hiking, eating, drinking, music, slide shows, eating, good conversations, sleeping in bunk houses, bat watching, velo-mo-babies and eating. How much more hiking trip-ish can it get? You know where we are now, come back!!"
Here are some photos taken at the Missouri reunion from Minard "Pete" Hall. And more from Bob Orser, Keith Howard, and Dave Eggleston.
Bob Orser also took photos of the Berkeley reunion at Skate's restaurant.
Steve Cafferata sent two photos from the Oregon reunion.
---
Who was in the U. C. Hiking Club, 1948 – 1970?
Helen McGinnis and Kay Hershey Loughman have created an Excel spreadsheet with names and contact information for more than 175 alumni who were active in the Hiking Club between its 1948 founding and 1970. Some information is also available in the List of Alumni, below.
We are still searching for contact information for at least 1250 others who were members during that time. The spreadsheet will be updated whenever we can add something new.
Former Hiking Club members who would like to have the spreadsheet can contact either Helen or Kay, providing us with the name they used when they were members.
List of Alumni
New addition October 2016: David Hill
News and contact information for past UC Hiking Club and CHAOS members
Reunion Photos & Reports
Assorted History
The U.C. Hiking Club was organized (again, or for the first time, is not clear) in October 1948, when Richard Bower and Kathleen Campbell, both university students, called a meeting of all people who were interested in the fine sport of hiking. 111 enthusiastic people came to the meeting to learn that the first hike of the semester was to be a nine-mile jaunt from Mill Valley to Stinson Beach.
If you have other historical materials from the Hiking Club and would like to see them here, please email public

mikehere.com
Artifacts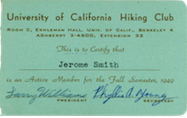 1949 member card. More cards . . .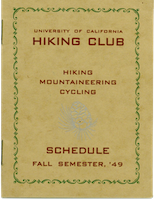 1949 Fall schedule
Printed by Ron Smith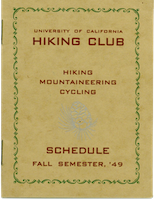 1950 Spring–Summer
schedule
Printed by Ron Smith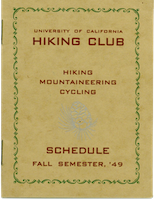 1951 Spring-Summer
schedule
Printed by Ron Smith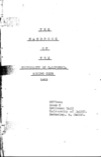 1953 UCHC Handbook
Edited by Richard Searle
& Harry Krueper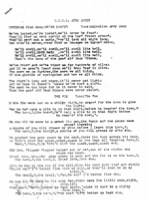 UCHC Song Sheet
Newsletter—The Bear Track
Read past issues of The Bear Track, 1949-1995. We have 85+ issues; please help fill in the gaps!
Membership Lists
Selected Bear Tracks also contain membership list additions and corrections.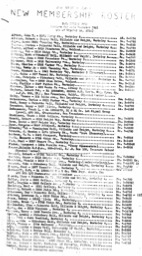 1951 Fall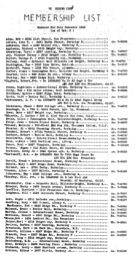 1952 Fall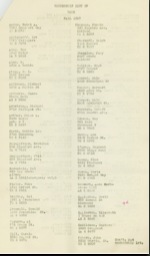 1956 Fall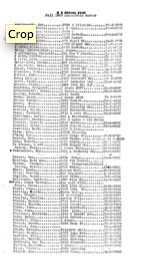 1960 Fall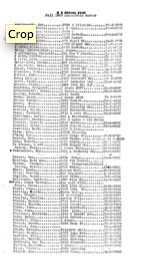 1962 Spring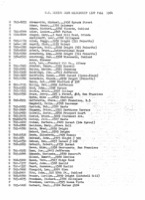 1964 Fall
Schedules of Activities
1949 Fall schedule
1950 Spring-Summer Schedule
1951 Spring-Summer Schedule
1953 Spring schedule
1956 Fall schedule
1957 Spring schedule
1958 Spring schedule
Spinoffs
Groups started by former UC Hiking Club/CHAOS members